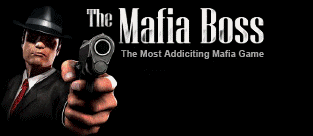 Hello everyone. Ink here with a quick review of the latest turbo round. First off, we saw some (old) new rules for this round with the inclusion of a 10:1 ratio and a totally uncapped round. That meaning that a player could add unlimited bought or won credits. Usually there is a limit of 90k won credits + amount of bought credits added, but not this time, and players took full advantage of the new offering resulting in an uncommon ending to the round.

The most violent player of the round was W from MobstersClub with over 1.7 attacks out. That's a LOT of clicking! I wonder if the lettering is worn off his attack button?? Crash and Willie_Trump came in second and third respectively.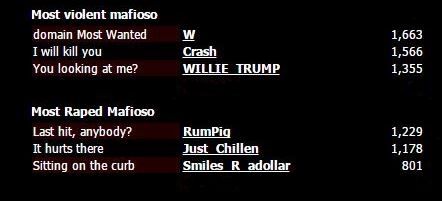 Another fun award to look at is the Most Raped Mafioso of the round. This time it was RumPig, consigliere of Skidmark_Scurvy_Dogs coming in first with over 1.2 million hits in. Wonder how many of those were from W?? JustChillen (MobstersClub) came in second and Smiles_R_adollar (Suicide Squad) was third.

No prizes or medals for these categories, but I did want to at least give them special recognition and offer a free jar of butt cream to the winner in the Most Raped category. Contact me in game with your name and address to receive your free soothing juice.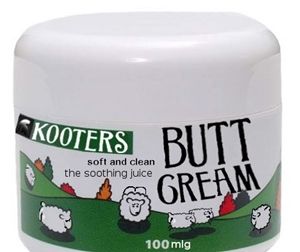 Moving on, let's take a look at the categories that DID result in prizes.

As mentioned previously, this was a 10:1 ratio round meaning that for every credit added, a player would get 10 instead of 1 credit in the round. Not a bad deal… especially for the smaller players with limited credits.

As expected, there were a couple of big builds well before EOR. AYBABTU with 18.1 million ops, Harley_Quinn w/14.4 mil ops and papi, w/12.4 mil ops, made it known quite early on that they meant business. But the real question was what families would they end up in during the last hour of the round? We would soon find out.

Twenty minutes to EOR, I saw AYBABTU had joined Suicide Squad and Harley_Quinn and papi had followed him. At this point it became quite clear what Suicide_Squads intentions were… they wanted the Jackpot! All we could do now was wait and see who was going to challenge them. I waited and kept watching the globals and level ranks, but the challenge never came and AYBABTU coasted to an easy win with $371 trillion value.

Papi, who was at one time in the same family as AYBABTU, was booted so he could take the silver medal prize with his $166 trill and AiD took the bronze with $150T.

It would have been nice to see a challenge, but maybe next round. Congrats to AYABTU and his family on their win.
-Level 4-

1. AYBABTU $371,001,372,125,302
2. papi $166,949,843,339,740
3. AiD $150,691,278,062,820
4. MtN $110,131,243,004,872
5. Satudarah $60,046,218,599,056
from Babbo_Bravo

I came back 2 rds ago and saw there is little competition in Turbos so I planned to go for the next Round. But tbh I didnt like the Rules because you never know what happens in an uncapped round, especially with uncapped won credits. Thats why I decided to show strength by building a decent amount of ops. With enough reserves and the support of my Team we finally made it and are very happy with it.

It's a great WIN and the Beginning of a new Order
Special Thanks go to Deco, dub, Tru and everybody else who contributed.

Expect more WINS from IC!
Level 3 results were about what was expected with ending values being much higher due to the 10:1 ratio. TM23 was the gold medal winner with $87 trillion, Alborosie grabbed the silver and maketmbbetteragain secured the bronze.
-Level 3-

1. TM23 $87,593,775,468,256
2. Alborosie $50,010,627,334,144
3. maketmbbetteragain $38,527,779,303,437
4. TINTIN $35,727,092,275,089
5. Just_Chillen $30,602,402,316,704
from AssKickeR

Bronze was the target since its the only missing medal to complete Tiny's set. Glad we did it in 1 try.
from Tiny

We did great only 2 persons played and we got bronze lvl3. If 2 ppl can achieve this, it shows others need to step up their game!

:-P.-
Wow! Great job! That certainly should be incentive to other players that you don't have to have a family to accomplish great things! Hope we see more of this type of play in future rounds.

Moving on… we saw a close race in level 2 ranks and some scrambling before it was all said and done. With two minutes to go CaptainPuffyNipple held the top spot with $9.9T with Liu_Kang and Squirt trailing way behind.

But when the game clock ended and the dust had settled, DontCareWhoRanks with a value of $23.3 trill took the top prize of 50k credits. PokerKing ($20T) and Smiles_R_adollar ($19.7T) came in 2nd and 3rd respectively and CaptainPuffyNipple, still holding his $9.9T, had dropped down to 4th.

Congrats everyone.
-Level 2-

1. DontCareWhoRanks $23,395,974,071,118
2. POKERKING $20,480,379,188,159
3. Smiles_R_adollar $19,779,382,320,620
4. CaptainPuffyNipple $12,921,628,234,756
5. Liu_Kang $7,014,262,962,227
from Domenico

We didnt have enough people in turbo to go for family, and ration rounds arent our thing because we would rather spend turns in main where we get the whole family something. We did get a level two gold this turbo tho, that was Mrmysterrio, who i was really happy to get him an individual medal as he has been really active and helping out with the family. His turbo name ended up being pretty ironic.
Level 1 ranks were really squirrelly with Aleksandar_Sisic pouncing on Midol_4_Turtle and SS_STD in the last minute of the round and taking the Gold medal with $30 trillion networth. If he had added 1k credits (or bought a $5) sub, he would have leveled up and won Gold in level two and an additional 30k credits.
In the future, remember to look at that … especially in these lower levels. It might be worth the jump to the next level.
-Level 1-

1. Aleksandar_Sisic $30,011,436,710,845
2. Midol_4_Turtle $6,758,965,343,459
3. SS_STD $3,076,906,514,758
4. zinc $637,805,045,225
Supporter ranks were kind of interesting to me as we saw CHICKEN a level 3 player take the silver medal in a category often dominated by level 4 players. He proved to be no chicken when it came to killing and ended up only 400k kps behind the Gold Medal winner, Papi.

43_Calfifas_Chief, another level 4 player, secured the bronze with just over 1.9m kps.
-Best Supporter Killer-

1. papi 3,022,981
2. CHICKEN 2,644,722
3. 43_Califas_Chief 1,958,358
4. meow 1,849,211
5. Satudarah 1,369,669
In the Free Killers category, Sam21 (1,135,950 kps) showed an impressive win over second place Nova (785,1170) and third place 0_0 (402,059). 1 million kps is very difficult for a free player in a 10-day main round, so seeing it happen in a 2-day turbo is even more impressive….

Although I suspect that Sam21 played it smart and added the allowed 999 credits (9999 with 10:1 ratio) to give him the edge on his competitors. Certainly heads-up thinking on his part! Congrats to all the killers!
-Best Free Killers-

1. sam21 1,135,950
2. Nova 785,117
3. 0_0 402,059
4. Mr.Peanuts 338,117
5. AlphaMalePredator 315,709
Family awards showed a commanding win by family boss BDD and Suicide_Squad, with $207 trillion safely deposited in the family bank.

2nd place Wumbo lead by CRKO amassed a family net worth of $62.2 trillion to earn the Silver medal. Dug_coal_together with Boss Boyd_Crowder, rounded out the top three with a value of $39.6 trillion. I thought MobstersClub had secured the bronze, but a late push by Dug dropped Mobsters to 4th with a value of $38 trill. Warhound_Turbo rounded out the field of 5.
-Collecting Family-

1. SUICIDE_SQUAD BDD $207,872,679,371,856
2. Wumbo crko $62,257,984,665,014
3. dug_coal_together Boyd_Crowder $39,645,456,291,063
4. MobstersClub BB $38,048,137,196,935
5. WARHOUND_TURBO POKERKING $15,830,198,848,806
from Darkstar

This turbo went extremely well for our family, and to be honest it was only possible because of the level of team work, we had a total of 20 players available this turbo, which is a record and a testament to the team ethic here!

But since we had the JP in mind this particular turbo and it was a 10-1 round we expected others to have the same idea and felt competition might be tough, hence 1 ranking fam.

I want to make special mention to those that donated and left the family; Shayne G, Jackie_D-Amico, Blackswan, JGuzman, Swiper, EirikRaude, EFH, KANKAKEE1, FTW_310, Khan. With their aid we managed to secure family Gold! We also tierd lvl3 gold and lvl2 bronze, and one member left to secure a lvl4 silver (great thinking on his part).

To top it off our ultimate goal was met in that our Jackpot runner had an uncontested win! It may look on paper to be an over spend but tbh we were expecting much more competition in a 10-1 round... Might be we scared them all off? Either way congrats to all winners. Long Live Team iC -Pinoy!

Respects
Dark
From Hollywood_Hubert

storm is giving out too many credits. Where is mine? we got third!!!!!! not bad for the forgotten. 3rd family we dug coal together
from EL_Chapo

We did great, wasnt even expecting to get as much money as we did ..We wanted to rank as a family first then try for a tier or two. Tried to add a new medal onto the list but seems like when i go for something everyone else is also going for it ..lol

I would like to thank all the people who dug coal together an made it happen. Shout out to my mom and my guys back at the gym, and the thugs who talk shit when walking past the alley to get to the turbo. u guys are motivation!

#successIsTheKey
from Klown

It was fun and we tiered a couple members in different spots. Not bad for getting the hang of it again lol
from Stalked

We didn't get to rank fam but as klown said we got a few spots but it was fun that's what matters
Klown was quick to correct Stalked on the family ranking as I received this reply immediate after stalked's comment.
from Klown

We ranked1 Warhound fam – POKERKINGs
from Benny-Blonco

I used the family name Mobsters Club because I like to bring back old families in mini rounds. We did okay but would have been top 3 if my dumb ass would have been on for end of round. Overall we had a good time and I want to give a big shout out to Todo for getting things in motion for us.
And here are some random comments I received that don't really fall under any of the prize categories. Take them for what they are worth… which in some cases, might be absolutely nothing at all!
from LuckyNate

You ever wonder why shit is tapered on the end?? I think its so your asshole doesn't slam shut. Your thoughts??
from RocknRolla

how much money, so much music, cheers
from blink

we did gud it wuz fun cuz squrrels lolol

kbai
from Buck_Nasty

I've found the best way to cook a steak is:
Wait till your meat is room temperature
Marinate with a coat of olive
oil or butter and a rub of your choosing.
Have the grill temperature at around 500 degrees

For a 1" thick cut steak sear both sides at around 90 seconds each
Put the steak on the top rack of the grill for another minute.
Take the steak off the grill and, let it cool on a salt block. Two-Five minutes. This also let's the juice spread back through your cut of meat.
Put steak on plate and enjoy
from SexualChocolate

Anyone else find themselves fully erect and sweaty after reading about Buck's meat?
Congrats once again to all the families and rankers. Go in peace and use your credits wisely my friends.

Ink out…