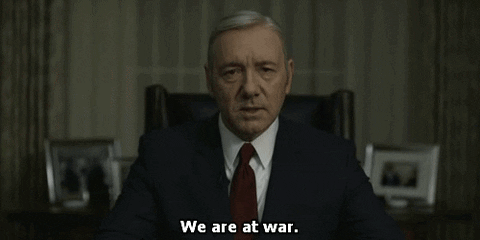 Hello everyone! Ink-slinger here with another main round review, this time round 850. This rounds battle between UC and IC escalated quickly from killing only DU to killing both defenses and operatives as well. Givenchy and 2Sexy4MyShirt started things off with Givenchy hitting DU and 2Sexy4MyShirt going for both DU and operatives. UC responded quickly by coming back and hitting IU defenses but after realizing that IC was not going to ease up on killing Operatives, UC responded aggressively and focused on IC ops as well. This went on for the first half of the round, but then things seemed to stall out for InnerCircle and I began to think they had gone into hibernation until the next round. At the same time the jackpot stalled out as well and sat at $1592 until a few hours before EOR when it only increased slightly. Whatever the reason for the slowdown, IC seemed uninterested in returning fire and I'd have to say that UC was the big winner in this war. Nice job UC!!
from Coga_of_Conga

Givenchy come for us at the start of round. We do what Hollywood_Hubert says
good war I was killed many times
from Coga_of_Conga

I love killing thank you
from nexus

The war started because our du bank was hit. We were told the first time was an accident, and the person was spoken too, wouldn't happen again. We accepted that. The same thing happened the next round, so it was no mistake, IC chose not to boot the offender so we had no choice but to attack. We don't start wars, but do respond when attacked.

So far the war has been going well, or as well as "wars" can these days. Our people are really pulling together working as a team and kicking ass.

UC Avengers
Unbent, Unbowed, Unbroken
from Jackie_D-Amico

The war with UC started a couple rounds ago because Dub and Rizzky got trigger happy and against my words of wisdom they hit UC and started this great battle. Im not complaining though because i of all people love the action. I do not see us fighting for very much longer.... All depends on how much TMK and the rest of RU gets in Eli's ear. It looks as though UC has us beat this round after winning turbo so with all do respect I want UC to know they did very well.

Thats all that needs to be said about this war. I was here for the past couple years fighting IU and understand when i say that people in IC took that war way more seriously because we viewed IU as an actual enemy, UC has earned our respect and i honestly don't have a problem with them. I think they have a good union and Avengers have always had a good family before that.
from 2Sexy4MyShirt

Nothing much to say. I heard they were going to hit ops so I targeted theirs along with killing their dus. Turned out to be a fun round afterall.
In related news, I'm told there was a big build off between Beasy and GIVENCHY. Unfortunately, I was fast asleep when the action was happening but was told that it lasted about an hour with one (or maybe both?) warriors hire/protecting before the standoff finally came to an end. By the looks of the killer ranks, it appears that GIVENCHY threw the knockout punch. Buildoff/Standoffs are always fun to watch. Sorry I missed this one.
GIVENCHY
Ranked 1 in Level 4, and 1 national.
Currently in Istanbul
This mafioso got 4,827,129 operatives
and 9,163,068 defensives
This mafioso has 1,039,127 kill points
Bruglione of SNIPER-GANG family.
Beazy
Ranked 2 in Level 4, and 3 national.
Currently in Istanbul
This mafioso got 1,004,062 operatives
and 9,613,185 defensives
This mafioso has 423,128 kill points
Bruglione of UC_Avengers family.
In other news, it seems there is some bad blood between Lebanon_Levi and IC. Evidently InnerCircle's banker had set safeties to Levi and one night Levi decided to pull said transfers, banking all the cash he could and stashing the rest in cars/planes instead of sending back to the banker. Indeed a bold move on his part, but not one that was well thought out or had good results in the end. The banker logged in, saw what was happening, canceled the remaining transfers and promptly attacked Levi to regain half of the $500b that he was holding. The next step was to have Levi ejected from the family resulting in the remaining cash he had banked being lost. Remember, if you get booted from a family, you lose all assets except for 1 ak per DU. Not sure what Levi was thinking, but he may have burned a bridge and might be needing a new home.

Moving on to EOR, after a brief retirement, we saw TMK coast to a second win in a row since returning to the game . It was an easy win of $1919 with no challengers, and he did it all by himself with no family support or looter help. Nice job TMK. Congrats on another Gold medal.

Rounding out the medal winners for Level 4 was Titus of Brotherhood taking home the Silver with just over $12T in his pocket and Coga_of_Conga (UC) earning the Bronze medal with a value of $9 trillion.

I tried to get some comments in this level, but received no replies.
-Level 4-
1. TMK $85,861,100,142,454
2. Titus $12,035,083,314,892
3. Coga_of_Conga $9,200,201,214,500
4. Jackie_D-Amico $4,249,221,515,576
5. Skeemin $3,148,237,274,665
6. Renzi $966,535,967,110
7. GIVENCHY $911,075,883,205
8. Yellawolf $220,041,222,586
9. Domenico $89,460,752,674
10. lebanon_levi $66,750,553,376
Level 3 saw a couple of close races between Dot and Skeet for the Gold and Hellhood and paddyenglish for the bronze. When the round was over and final results were in, it was Skeet of UC get that one final transfer to push him into the Gold medal position with Dot of Brotherhood earning the Silver. Paddyenglish (Vahalla) narrowly edged out Hellhood (FoundHell) by just 300 billion to take the Bronze medal.
Congrats to all the rankers in this level!
-Level 3-

1. skeet $6,618,437,268,724
2. DOT $6,009,961,627,671
3. paddyenglish $4,549,780,778,044
4. Hellhood $4,203,752,912,131
5. pro $3,388,384,528,518
6. MrMysterrio $1,300,853,147,268
7. OMWTFYG $134,060,104,000
8. Juliet $12,460,063,645
9. Tremor $11,605,158,052
10. Grinchy $7,879,092,429
from DOT

Hey Ink, thank you for asking! Well what can i say, round was perfect and TMB in general is awesome, already 11 years and counting lol
Wow! 11 years! It's always good to see veteran players still playing the game! 😊

Level 2 action showed the closest race of all and it was between Friar_Tuck and AnthonyF. 26 billion is all that separated the two contenders, but it was more than enough to earn Friar Tuck (Myoboku) the Gold medal over UC's level 2 candidate, AnthonyF. The Bronze medal went to donot, another UC player. Congrats all!

I'm not sure if you have noticed, but recently UC has been doing very well in the individual rankings. With a strong family base, great leadership and some really good players, they certainly seem to be the family to beat right now. Good job UC.
-Level 2-

1. FRIAR_TUCK $4,327,091,624,422
2. AnthonyF $4,301,381,196,100
3. donot $2,909,527,760,599
4. Scrappy $2,000,381,886,961
5. Machine $1,311,655,296,324
6. Swiper2018 $622,128,632,579
7. MR-SEXY-JAG $532,966,491,027
8. Jerome $507,355,870,243
9. Penny $134,265,897,739
10. Saintworkers $113,847,422,918
Level 1 ranks had an interesting outcome for the Gold medal. Salazar from UC was clearly the favorite in this level but in the end, Howl of Loco, overshadowed him and walked away with the Gold medal by more than 1.5 trillion leaving Salazar with the Silver. RobinGood of Capo was in search of the Silver medal, but come up 113 billion short and was awarded the Bronze medal. Nice job guys! Congrats on your rankings!
-Level 1-

1. Howl $3,702,546,400,857
2. SALAZAR $2,113,399,581,376
3. RobinGood $2,000,245,060,000
4. Lucianos_Gamble $1,803,921,954,871
5. damnitian $1,100,010,716,845
6. Clutch $850,022,937,209
7. I_C_U $803,667,841,429
8. clusterfcuk $403,739,387,031
9. DUNPHE $299,822,785,154
10. Abel $71,371,830,115
from Howl

Just want to shout out dusk, skeemin,AD and the rest of the loco crew couldn't have done it without y'all help was a complete team effort.
from RobinGood

Just the usual -- looting the rich to feed the poor
Moving on to my favorite category, the Killers ranks, we find no surprises here as GIVENCHY of IC killed his way to another Gold medal in the Supporter Killers level, with 5,770,568 kps. BigAnt of Foundhell finished almost 2 million kps behind GIVENCHY but still earned the Silver killer medal with Pinkdot of UC taking home the Bronze. The war between IC and UC certainly helped boast kill points for a couple of these guys. 😊 Unfortunately, no comments from any of the killers that I contacted.
-Supporter Killers-

1. GIVENCHY 5,770,588
2. BigAnt 3,517,684
3. PINKDOT 2,894,056
4. Cinderella_Man 2,025,129
5. Fighting_IRISH 1,916,658
6. Justin 1,785,802
7. 2Sexy4MyShirt 1,449,404
8. Mass_Destruction 1,221,868
9. Dutchi-Hit 635,312
10. paddyenglish 112,140
Free Killer totals were unusually low this round and competition between the contenders wasn't as close as in the past either. I'm guessing that the war took its toll on this level as well since many players were getting killed as soon as they built. Let's have a look at the results.

Typically, we see the Gold medal going for between 500-800k kps… but this round Rock took the Gold with just 408k kill points. His nearest competition was italianboss who finished in second with a 306k kps and 0844 with a mere 152k took the Bronze medal. Really low kills this round but still enough to earn medals and a rank.
-Free Killers-

1. Rock 408,628
2. italianboss 306,078
3. 0844 152,422
4. Malvo 145,569
5. Slob_On_My_Kebab 122,759
6. Leah 111,812
7. Mitch 62,460
8. BigBootyJudy 46,549
9. Absurd 44,438
10. Ifrit 44,231
from Rock

Thanks but the real thanks goes out to the family that were killing each other that open the door for this easy win. To my family BH sorry for not putting in my share of work but you all no i got your back. Now Rock On!
from Italianboss

thank you- it was long overdue but now i have nothing to do. Thanks to those who helped and those who congratulated me.
The final category to report on is the collecting awards for Family and Union. In the family level, Brotherhood held a commanding lead with a family bank of $13.6 trillion and easily took home another Gold medal for their members. FoundHell was a distant second but did quite well with a bank of $4 trillion and earned the Silver. And the last medal spot went to Loco_Ghosts who easily secured the Bronze medal with a value of $3.3 trillion.

Rounding out the field of 5 was Clericuzio and PublicEnemyNumber1 families with values of $1.3 trillion and $998 billion respectively.
-Collecting Family-
1. Brotherhood Tawnie $13,699,669,126,105
2. FoundHell Benny-Blonco $4,036,591,231,674
3. LOCO_GHOSTS Dusk $3,336,904,155,596
4. Clericuzio Domenico $1,345,328,955,208
5. PublicEnemyNumber1 Zombie $998,389,465,458
from Dusk

We did well despite bank getting hit,, much better than the hitters, well done loco!
Our final award is for Collecting Union. This round there were only 4 unions competing for the awards. Hollywood_Hubert and his union, UC_the_Goat took the Gold medal with a union value of $21 trillion, followed by IC-Mind_Duck_U lead by Tru taking the Silver medal spot with $13 trillion. MrsKown and Valhalla earned the Bronze medal with $7.5 trillion. The final spot and honorable mention goes to Myoboku. What impressed me is that Myoboku is a very small two-family union that partnered with Shinobi this round. They did quite well for themselves considering that they were up against three much larger unions. But small as they are, they were still able secure the Gold medal in Level 2, a 5th place rank in Level 3 and bring together enough players to earn the 4th place union spot. I enjoy seeing small families accomplish big things. Much respect to these guys. They may be small, but they are mighty!
-Collecting Union-

1. UC_the_Goat Hollywood_Hubert $21,075,805,426,144
2. IC-Mind_Duck_U Tru $13,984,392,884,569
3. VALHALLA MrsKlown $7,539,772,898,167
4. Myoboku FRIAR_TUCK $1,027,803,345,059
from Druss

I wanna give shout out to shinobi family. As they showed with us what 2 small familys can do..

Also respect for valhalla from keeping us from 3rd union rank. We really hoped to sneak it away from them...

Fun round.
Ladymarian Sherwood Forrest family
from Nexus

We had a good round. The hitters really stepped it up to keep the enemy down. I guess they didn't think we had it in us, but we showed them. The lesser cost of op hits helped us as well. I'm not one for op hitting, but it was good they got to see how it felt to get their ops hit.

As usual our looters did a great job, the cash flow was strong all round. Then at the end our collectors did their part. It was a collective effort by all. We grew fast, and sometimes that hurts a family/union, but everyone is working well together.

I'm expecting more strong rounds from us in the future. I'm glad to be on the side of so many good dedicated players.

UC Avengers
Unbent,Unbowed,Unbroken
And that brings us to the end of the Round 850 review. Hope you enjoyed it. The round 852 review will be coming out before the start of the turbo so be on the lookout for that!

On a final note, the Blog staff has two openings… The first is for an interviewer who can submit two player interviews per month. The second is for a Main Round Reviewer who would be responsible for submitting the round reviews. Comp is progressive and based on word count…. Meaning the more your write, the more game credits you get. If interested, please contact me in game.

Until next time, this is Ink signing off and saying Peace out people! See you soon!